VE United 18U Has Summer to Remember
Courtesy of suburbaonesports.com
9/4/18 3:07pm
VE United U18 Girls' Soccer team capped a memorable summer with a third place finish at the USYS National President's Cup in Westfield, Ind. (Photos provided courtesy of VE United) The article below is sponsored by the Vereinigung Erzgebirge Soccer Club.
It was, by any description, an amazing journey for the Vereinigung Erzgebirge (VE) United U18 girls' soccer team. And - listening to the players tell it - an unlikely one as well.
No one, it seems, could have imagined a script that would see VE United capture both the state and regional titles en route to a third place finish in the USYS National President's Cup in Westfield, Ind., but that's exactly what happened.
"Last year we didn't do as well, and we all thought this year we were going to do horrible because the other teams were getting better," said captain Emily Vickalitis, a senior at William Tennent. "We were all like, 'My god, we're not going to make it far,' but we made it all the way to nationals. It was shocking."
It was also the stuff dreams are made of.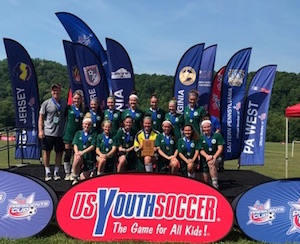 "It's honestly once-in-a-lifetime," said captain Caroline Serban, a senior at Central Bucks South. "It's amazing because it's our last year able to do Cups, so it was a great way to end it.
"We all were so determined to get here, and it was great to be able to do it, especially our last year."
The players admit they were getting used to falling just short of their elusive goal of winning a state title and advancing to regionals.
"Going into the season, we were kind of down on ourselves, you could say, because previous to this we were also in the Cups but we never got this far," said senior captain Isabella – 'Izzy' – Manzella, a senior at CB South. "We would get to that championship game to get to regionals, and we'd lose there.
"That was really heartbreaking going undefeated the season and just having to win one last game and losing, so this year we all were really committed to it. We had to go to every practice and every game, and we were really in it to win it this year."
And win it they did.
Their journey began last fall with the start of the club season. The team not only competed in the EDP League, it also attended college showcases throughout the season.
Cup competition began in April, and VE United progressed to the state title game where it rolled to a 5-0 win over Waynesboro Dynamite in the title game on a foggy May night. Through the state title run, the team was undefeated, scoring 20 goals and allowing just two.
Goalkeeper Emily Vickalitis and the back line of Melanie Bennett (Archbishop Wood), Arianna Mancini (Abington), Isabella Manzella, Rachael Petrowski (Hatboro-Horsham), Hannah Follmer (Archbishop Ryan) and Haley Waring (Little Flower) shut down any attack.
In the title game, Ashley Rivera (William Tennent) scored the first goal, which turned out to be the game-winner, Mackenzie Edwards (Central Bucks South) and Emma Maley (Penn Charter) both scored two goals. Sara Readinger (Souderton), Ashley Rivera, Liv Himmelstein (CB South) and Taylor Teal (Philadelphia Academy Charter) controlled the midfield. Kate Henesey (Lansdale Catholic) and Caroline Serban contributed up top.
The team's state title run erased memories of disappointments past. Last year VE United lost in the state quarterfinals and – the preceding year – saw their season end with a loss in the state title game.
What changed this time around?
"I feel like we all just started actually caring about winning, and we all put in more effort, and we all put in more effort as a team – we have to do this and we have to change if we want to win," Vickalitis said.
"I think from the very beginning we knew we had a better team this year," Manzella said. "We had new players join who were dedicated to the team.
"We all made it to practice, and as a team, we were united as one together. We really had a good friendship this year."
"We all were very committed, and we all had the same goal, which was to win," Caroline Serban said. "I think a big part of that, which was important, is we were very close. We were from different schools, but we all were still very close, almost like a family, so I think that's a big factor in success."
Moving on
In June, VE United travelled to Barboursville, W.Va., representing Eastern Pennsylvania at the East Regional Championship. The team, according to coach Mike Serban, had a "will to win," grinding out five wins (90-minute games) in three days.
In the regional title game, VE United met a familiar opponent – Waynesboro Dynamite, which advanced to regionals as a wild card team. It proved to be their toughest challenge.
VE United trailed 2-1 at halftime and still trailed by that score with 20 minutes remaining in regulation. Emma Maley scored the equalizer off a perfect through pass from Caroline Serban. Shortly thereafter, Caroline Weir (William Tennent) scored a goal that turned out to be the game-winner. Also contributing a goal in the title game was Gabby Sowers (William Tennent), using a cross from Hannah Follmer.
"It was crazy because it was such a good game because we just really wanted to beat them again," Caroline Serban said. "
Weir was the leading scorer for the regional tournament with six goals. Kayla Taylor (Abington) contributed three goals. The defense stood tall and was once again anchored by Vickalitis and a defensive line that included Petrowski, Mancini, Manzella, Waring and Follmer. Maley, Serban, Rivera, Kathryn Morrow (Upper Moreland), Sowers and Emily Branchide (Archbishop Wood) solidified the midfield and also contributed to the scoring.
"Just the will to win for this team – they trained hard," coach Mike Serban said. "The high school season is 10 weeks – it's a sprint.
"The club season is almost nine months. It was a lot of practice, a lot of dedication, a lot of commitment to one another."
VE United reaped the dividends for that practice, dedication and commitment, earning a trip to the final four of the National President's Club at the Grand Park Sports Complex in Westfield, Ind., the first female team in the storied soccer history of Vereinigung Erzgebirge to advance to a national final.
"It was crazy," Vickalitis said. "There's about a month between regionals and nationals, and as soon as we got back (from regionals), they sent a list of hotels. We started booking everything."
Upon arrival Indianapolis, the team had a training session and then enjoyed a national luncheon where they had the opportunity to meet with other players from around the country and trade regional items.
"We traded a lot of stuff from the Philadelphia Union – shirts and lanyards," Manzella said. "We also had Hershey Bars and Tastykakes.
"It was really cool seeing players from around the nation that share the same passion as us. I thought that was the coolest thing."
Some of the players took time to tour the Indianapolis 500 Speedway. The national finals began with VE United facing the Midwest Regional Champion from Chicago. They battled the eventual champion to a 2-2 tie. In its next game, VE United fell to the Far West Regional champion from Idaho, 2-1, on a penalty kick with five minutes remaining.
With a shortened roster due to injuries, VE United faced the South Regional champion from North Carolina, battling to a 3-3 tie and setting the stage for the bronze medal game, a 3-1 VE United win over North Carolina. Olivia Miller (William Tennent) tied for leading scorer at nationals, and Vickalitis was strong in goal.
"This was a huge accomplishment," said coach Mike Serban, who played collegiate soccer at Drexel and – as a club player – won a national title. "Although the team, of course, would have liked to win the whole thing,
finishing as top three in the country in any competition is something that the coach, club and players are extremely proud of.
"And along the way, they earned some impressive hardware, had a lot of fun and made memories that will last a lifetime."
VE United's record through cup competition (States, Regionals and Nationals) was 10-2-1.
Memories, they've got memories
The once-in-a-lifetime experience was not without sacrifices for the players and their families.
"Usually I go to the beach," Caroline Serban said. "I didn't go this year, but I didn't mind because I had one goal. Soccer was my main focus."
"My whole summer was just soccer," Manzella said. "I had to change a lot of plans because it was a really long journey, and it required a lot of dedication.
"Even just for practices throughout the week, we had two or three practices a week, so I had to get off from work. It was hard missing other events that are not soccer so I could fully commit to my team, but it was worth it."
Ask the players what they'll remember most about the experience, and it's not the wins or losses.
"I'll remember the bond we had," Manzella said. "I know this sounds funny, but just being in the hotel with everyone and going to team dinners every night – I think that was my best memory."
"We all just bonded from the beginning," Vickalitis said. "We all became really good friends.
"We all supported each other. I'm going to miss it so much. I love the team. It's just a great atmosphere, it's a great team to be on and a club to be a part of."
"What I'll remember most was being with my team and just getting to experience it with them and playing on the beautiful fields," Caroline Serban said. "It was crazy how nice they were and being able to get where we were and playing people from different states – that was crazy.
"It's something I will never forget, and it wasn't just about the soccer. Just being with my team and experiencing it with them was unbelievable."